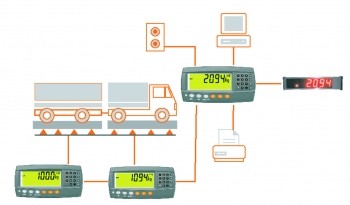 Multi deck weigh bridges are an extension of the single deck application with the addition of a summing indicator.
The R400 summing unit – R420-K481 will sum up to 9 slave units, from either the R400 family or the R300 family of indicators.
The 6700 Summing Indicator would be used to sum the weight across multiple 5000 series indicators.
The 5000 series indicators have been used extensively on weigh bridges.  The 5230 specifically handles:
Single Weighing with Weigh In-Out
Batch Process Single Weighing (In-Out)  where a product fill is performed directly on the weighbridge.  The optional outputs could be used to control a product fill from a silo, for example.
Multiple and Variable Axle Weighing (In-Out) – allows up to 10 axles of a vehicle to be weighed and the weights stored as the transaction.
200 memory allocations – to store truck, product and destination identification
Material usage reporting – against truck ID and destination ID.
The 6700 can be used as summing indicator (or master/slave controller) on multi deck weigh bridges.
The 6700 acts as the summing master controller for slave 5xxx units connected on a multi-drop serial RS485 bus. The resulting total weight is displayed on the 6700.