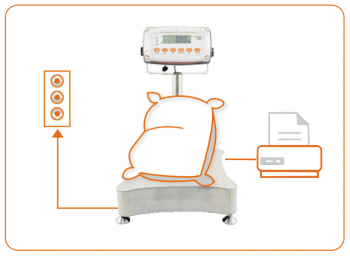 The 2100, X320 and the 5200 indicators have built-in check weighing applications. The 2100 and X320 support 3 band check weighing (low/pass/high). The 5200 supports 5 band check weighing and grading applications and stores up to 99 products.
Each of these indicators has built-in RS232 for connection to printer, PC or display.
For portion control and check weighing in food processing areas the X320 is the answer with its IP69K environmental rating making it suitable for high pressure, high temperature wash down.
The X320 is a check weigher that is design and built to handle harsh environments:
3 coloured high intensity status LEDs built into the front display
Check weighing – low, pass and high
3 Isolated outputs to drive traffic lights or status lamps.
IP69K and IP68 environmental rating suitable for food processing areas
The X320 is also combined with the XK, XS and XT scale bases.
5200 is a powerful check weigher offering:
99 Products – preset tare, setpoint targets and counting sample information can be stored for each product along with product totals
Check weighing – 5 grading bands (4 setpoint check weights)
Statistical reporting on product grading
Totalising, Counting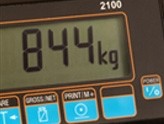 The 2100 provides a cost effective basic check weigher:
Check weighing – low, pass and high
Large high contrast LCD display with LED backlight to improves operator visibility and accuracy of reading the weight.
The X320 is available on the XK, XT and XS stainless steel scale bases. The XK and XT combined with X320 provide a complete IP69K solution. The XK uses  marine grade 316/1.4401 stainless steel and XT uses 304/1.4301 stainless steel.