Description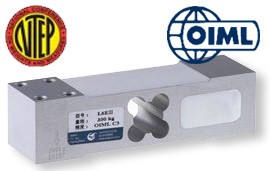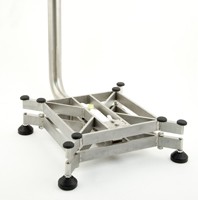 Key Highlights & Features
2.5kg to 2t Capacity ranges
Platform scales
Product Description
Single Point Load Cells (Platform Load Cells) can be used for a variety of weighing functions but their most common application is found in most small to medium sized platform scales.  What makes single point loadcells unique is the ability to accept "off-centre" loads. They can support a weighing platform that is bolted directly to them and will accurately measure weight placed at any point on this platform. The maximum platform size is restricted according to the capacity of the loadcell - available from 600g up to 2000kg. This arrangement provides an economical and straight forward system for most small to medium sized platform scales.  The table below lists the maximum plaform size for each model and capacity. B6F
| | | | | | |
| --- | --- | --- | --- | --- | --- |
| | | | Model | Applications |  Maximum  Platform size   |
 B6F Load Cell

Stainless Steel

100 - 2000 kg

OIML C3

 Single or double load cells structured platform scales.

50kg-200kg: 400mm x 400mm

250kg-500kg:
600mm x 800mm

750kg-2t: 1200 x 1200mm
B6G Load Cell

Stainless Steel

100 - 600 kg

C3

Single or double load cells structured platform scales.

600mm x 600mm
 B6N Load Cell

Stainless Steel

8 - 200 kg

OIML C3, C4

Platform scales, belt scales, etc.

400mm x 400mm
 BM6A Load Cell

Stainless Steel

6 - 60kg

OIML C3

Platform scales, belt scales, etc.

350mm x 350mm
 BM6E Load Cell

Stainless Steel

50 - 300kg

 Platform scales, belt scales, etc.

600mm x 600mm
 BM6G Load Cell

Stainless Steel

10 - 500kg

OIML R60 C3, C4, C5

NTEP

Platform scales, belt scales, etc.

100-500kg:
800mm x 800mm

10-50kg:
400mm x 400mm
H6F Load Cell

Alloy steel

100 - 2000 kg

C3

Single or double load cells structured platform scales.

100kg-200kg
400mm x 400mm

250-500kg:
600mm x 600mm

750-2000kg
1200 x1200mm
H6G Load Cell

Alloy steel

100 - 600 kg

C3

Single or double load cells structured platform scales.

600mm x 600mm
 L6B Load Cell

Aluminium alloy

0.3 - 3 kg

C3D

 Suitable for balances.

200mm x 200mm
L6C Load Cell

Aluminium alloy

3 - 50 kg

C3D

 single or double load cell structured platform scales

250mm x 350mm
L6D Load Cell

Aluminium Alloy

2.5 - 50 kg

OIML C3, C4, C5, NTEP

Small platform scales like pricing scales, weighing only scales

250mm x 350mm
 L6D15 Load Cell

Aluminium Alloy

6 - 30 kg

OIML C3, C5

 Small platform scales like pricing scales, weighing only scales

350mm x 350mm
 L6D8 Load Cell

Aluminium Alloy

50 - 200 kg

OIML C3, C4

 Small platform scales like pricing scales, weighing only scales.

350mm x 350mm
 L6E Load Cell

Aluminium alloy

50 - 300 kg

OIML C3, C5, NTEP

Pricing scales, bench scales, etc.

400mm x 400mm
 L6E3 Load Cell

Aluminium Alloy

50 - 500 kg

OIML C3, C4, C5, NTEP

Pricing scales, bench scales etc

450mm x 450mm
 L6F Load Cell

Aluminium Alloy

50 - 2000 kg

OIML C3

Single & double load cells structured platform scales.

50kg-200kg:
600mm x 600mm

250kg-500kg:
600mm x 800mm

750kg-2t
1200 x 1200mm
 L6G Load Cell

Aluminium Alloy

50 - 600 kg

OIML C3, C4

 Single & double load cells structured platform scales.

600mm x 600mm
 L6H5 Load Cell

Aluminium alloy

4 - 20 kg

OIML C3

Single load cell structured electronic scales.

200mm x 200mm
 L6J Load Cell

Aluminium alloy

1 - 20 kg

C3D

Counting scales, balances, etc.

200mm x 200mm
 L6J1 Load Cell

Aluminium alloy

0.3 - 3 kg

C3D

 counting scales, balances, pricing scales

200mm x 200mm
 L6N Load Cell

Aluminium

3 - 100 kg

OIML C3, C4

Pricing scales, bench scales, etc

350mmx400mm
L6Q Load Cell

Aluminium

50 - 250 kg

OIML C3, C4, C5

NTEP Class III

Pricing scales

400mm x 400mm
 L6W Load Cell

Aluminium

50 - 635 kg

C3

Pricing scales,

bench scales, etc.

50-200kg 600x600 mm 250-635 kg 600x800 mm
Smart Weighing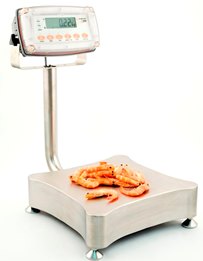 The XK combines the proven robust X320 indicator with a rugged X Series base equipped with an IP69K load cell to handle the toughest weighing application. An ideal general purpose or check weighing scale for marine and food processing applications and for:
Tough environments where there is possibility of knocks
Where heavy wash down of the indicator and base is needed (IP69K).
Where the whole scale including the indicator needs to be submerged for hygienic purposes for example (IP68).
Check weighing and general purpose weighing
...now that's smart weighing.
Product Downloads
The following files are available for download for the Single Point Load Cells. Ensure you select the correct documentation for your unit's software version. Check back regularly for software and other updates.
To download files, please click on a filename below. A save dialogue box should appear allowing you to specify your save location.

If a save dialogue box does not appear, right click on the link and select save target as.
Files