Description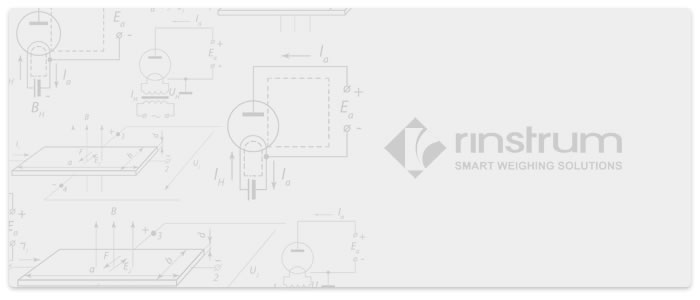 Key Highlights & Features
100,000 d @ 0.25 V/d
FELS operations via DX40 software in optional D640/D740 remote displays.
Internal Logic relays in 400 Series allow for additional I/O control beyond the standard weight triggered I/O.
Powder Coated or stainless steel options
Save400 software for cloning applications.
Viewer Software for configuration and diagnostics.
Viewer Software for configuration and diagnostics.
Product Description
The R400 series of indicators are ideal for mounting in consoles for a wide variety of applications including filling, batching and process control just to name a few. The console houses the power supply and relays that are used to control external devises; motors, solenoids etc. The R400 series modularity makes it ideally suited for build to order applications where the modules and accessories can be easily specified to be incorporated in one unit to suit your applications.
Two consoles are available - stainless steel or powder coated - selected according to the environment. The R420 (ABS) rated to IP65 or the R423 (stainless steel) rated to IP66 is panel mounted in the door.

A typical configuration would include:

 DIN rail mounted relays that are used in conjunction with an I/O module and provide 8 voltage free relay outputs rated to 250VAC up to 8A.

 DIN rail mounted

240VAC Power Supply

Emergency Stop and coloured buttons configured as required


Cabled and with a basic configuration for the application firmware that has been selected.
Flexibility is the key with its award winning modular accessory design and the ability to utilise the ever increasing Software Variants of the 400 Series of Indicators.

Modules include: Additional RS232/RS485 Serial options, Input/Outputs, Analogue outputs, voltage free inputs for buttons etc. Ethernet, Alibi (Data Storage Device) as well as battery or AC options.
Operator friendly - large multi-segment display that uses logical prompts along with dedicated and programmable function keys. Primary display is 29mm (1.1") and secondary display 18mm.
Printing can be tailored with custom record, docket or reports printouts.
Smart Weighing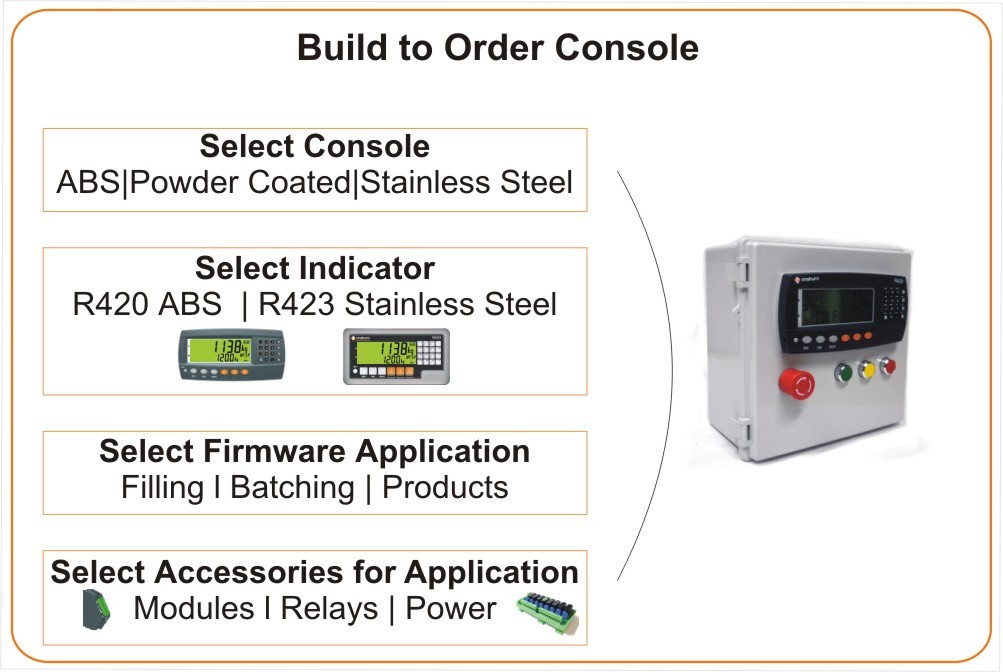 Configure to your requirements
Three consoles to choose from according to the environment
Two indicators R420 or R423
Modules specified according to requirements
Prewired from the factory
Viewer Software connection via RinLink to assist with additional configuration and storing applications for future development as well as supporting existing installations.
..now that's smart weighing
Product Downloads
The following files are available for download for the R400 Series Build to Order Console. Ensure you select the correct documentation for your unit's software version. Check back regularly for software and other updates.
To download files, please click on a filename below. A save dialogue box should appear allowing you to specify your save location.
If a save dialogue box does not appear, right click on the link and select save target as.
Files