Product Focus: C520, C530, and C527 Industrial Weight Controllers
The C520, C530, and C527 industrial weight controllers embody Rinstrum's 25-year commitment to being at the forefront of weighing technology. The C500 series brings together the best of the R400 series and legacy 5000 series.
The three models – C520, C530, and C527 – are used in different applications. The C520 has a high-contrast LED display and a 6-button keypad and is a direct drop-in replacement for HBM's WE2110 and WE2111 and Rinstrum's legacy 5000 series. The C530 has the same functionality, but is a DIN rail mounted device without a display. The C527 is an IP65 rated waterproof stainless-steel housing unit with the same weighing capabilities as the rest of the C500 series, and can be wall, desk, or pole mounted.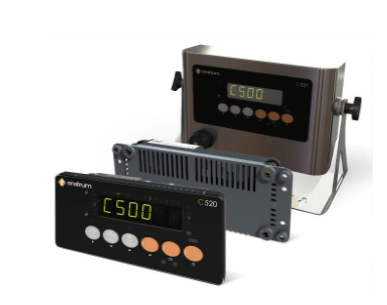 Highlights at a glance:
High-contrast LED Display
10,000d @ 0.5 uV/d
16 x 350Ω load cells
AC and DC power supply versions
Diagnostics and setup on PC via Ethernet or USB slave
Embedded web server
MODBUS TCP, Legacy ASCII
Expandable via plug-in modules
EtherNet/IP support with optional software
For more information on these industrial weight controllers, visit the C520, C530 and C527 Industrial Weight Controllers page