Release date: 25 Sep 17
Rinstrum's R320 ABS indicator is now available in a variety of full housing versions for simplified installation and purchasing. The IP65-rated version can be supplied with either 4 or 2 M12 connectors depending on the I/O and communications requirements. The 4 AA battery desk stand and plug pack version is ideal for basic indoor installations.Variants include:
  AA Battery Version => 4AA battery desk stand and plug pack
  2 Connector version => using M12s and waterproof boot
  4 Connector version=> includes communications and I/O M12 connections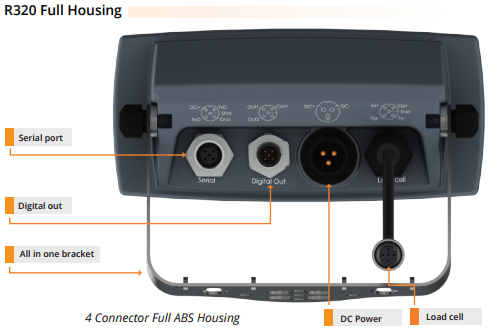 Click through to the Product Page for an overview of the full housing variants go to the download section for the new colour brochure and new data sheet.
The key features of the R320 include the following:
  Operates within a wide DC Range (7V to 24V), suiting several OEM applications.
  Approved for trade in Australia, Europe, and USA.
  rinLINK magnetically coupled link allowing easy access to set up or update the indicator.